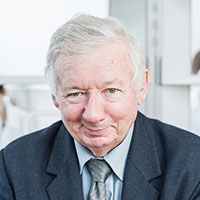 Prof. dr Tadeusz DoboszHead of the R & D department
In Genomtec, he coordinates all R & D activities and oversees the work of the technological and biological-molecular team.
Professor Dobosz is a co-creator of the Genomtec technology, an outstanding Polish scientist with almost 50 years of scientific experience, and a widely recognized specialist in the field of clinical genetics. His scientific activity began at the Institute of Immunology and Experimental Therapy of the Polish Academy of Sciences in Wrocław. Since 2004 he has been the head of the Molecular Techniques Unit at the Department of Forensic Medicine of the Wroclaw Medical University. He's the author of 56 printed works occupying a spot on the ISI Master Journal List and over 470 scientific publications. The creator of many improvement and patenting proposals. Winner of 14 different prizes, including the Gold Cross of Merit, awarded for his achievements in the introduction of DNA testing technology to Polish forensic genetics, and the Knight's Cross of the Order of Polonia Restituta. He was a part of two international teams of experts under the Society for Forensic Haemogenetics.
He has served multiple times as a technical auditor for the Polish Center for Accreditation.